Today our historical review of the five "worst parking lots" in Downtown Denver focuses on Candidate #3: Block 176. This block is directly across Broadway from yesterday's block, Block 001-B.
The largest building on Block 176 was the Adams Hotel. The Adams was a handsome four-story structure with a cupola, located at the corner of 18th and Welton where the vacant bank drive-thru structure is today. The small three-story structure next to the Adams on the Welton side was the McCallister Building. Here's an image of the Adams Hotel taken between 1902 and 1910 (as before, all images are from the Denver Public Library's Western History and Genealogy website):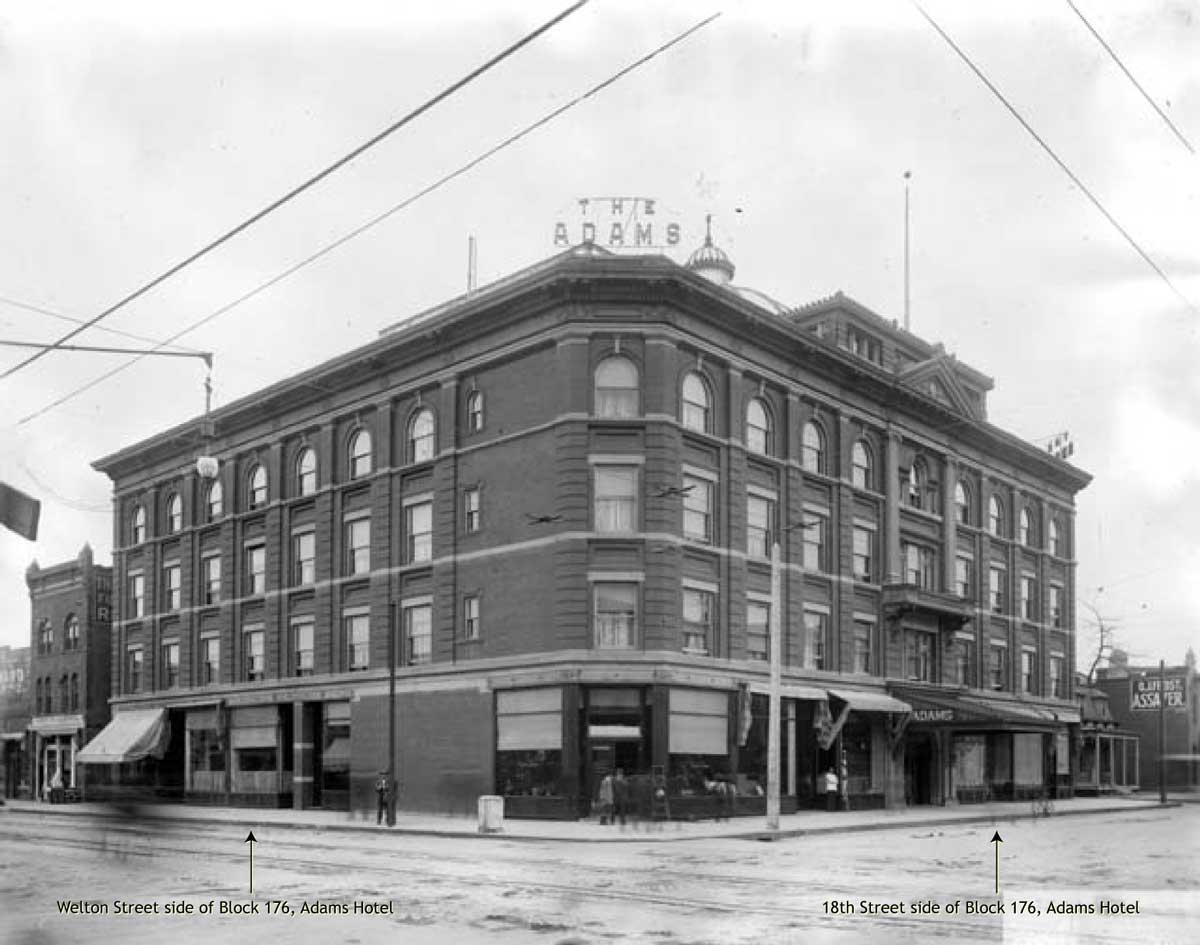 Here's a photo (taken sometime between 1900 and 1915) that is very similar to one that I posted yesterday, looking southwest down Welton. The building on the left edge is the Astor Hotel on Block 001-B. The buildings on the right edge are on Block 158 and, beyond that, Block 159 (which, by the way, is currently all parking lot along Welton). The buildings in the center of the image are of Block 176. Two more hotels, the Trinity and the Congress (along with most likely another dozen or so other businesses) occupied the Broadway, 19th Street, and the rest of the Welton side of Block 176. Clearly visible is the Adams Hotel's cupola in the background: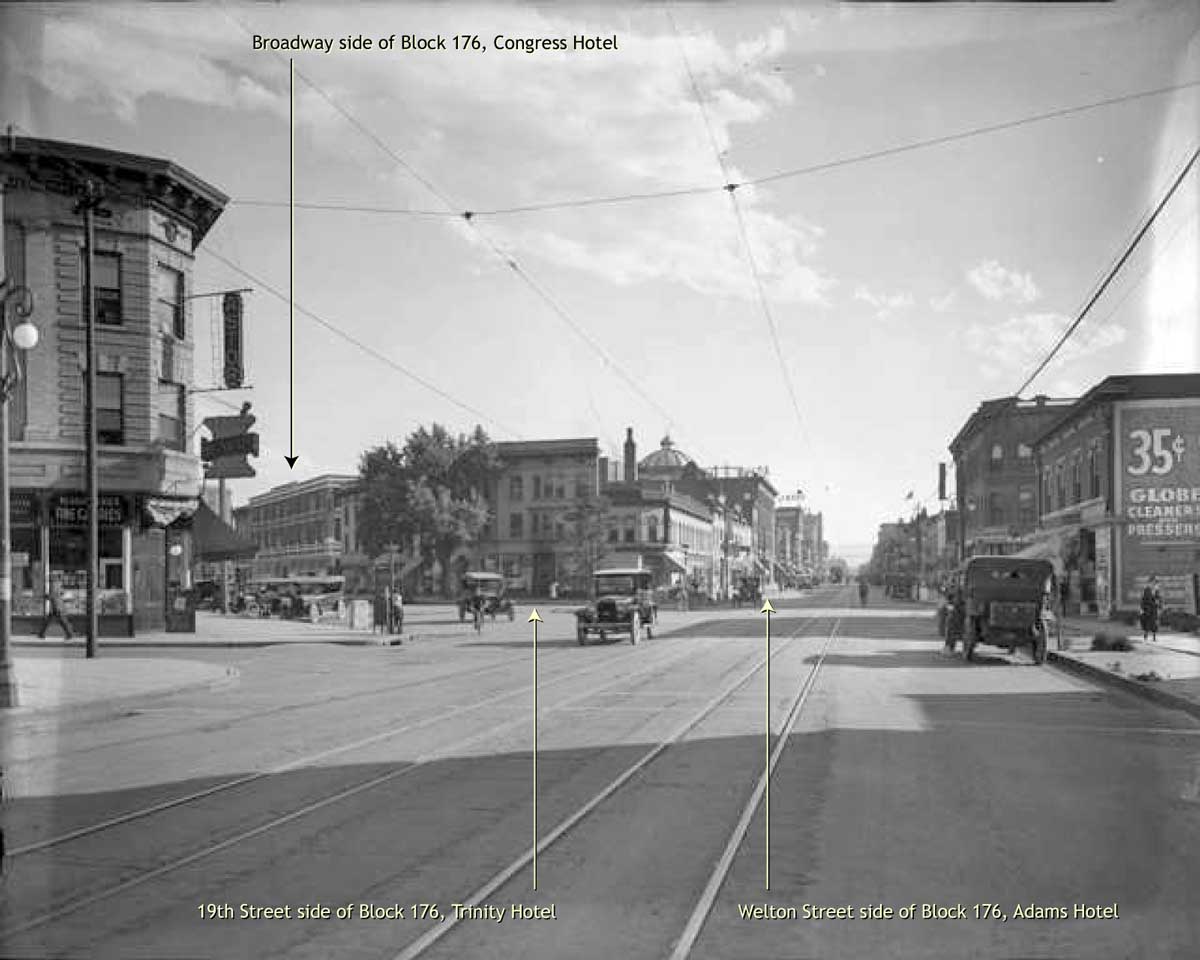 On the opposite side of the block, at 18th and Glenarm across the alley from the Adams, was the Empire Hotel. Here's a photo from the 1920s of the Empire along with a view of the little one-story building that is now the home of Shelby's Bar and Grill:
Finally, we'll conclude with two aerial photos from the late 1950s where we can see the beginning of the "parkinglotification" of Downtown Denver. This image, from 1957, shows the Glenarm and Broadway sides of Block 176. The Adams is still visible in the background as well. Of note, however, is Block 001-B in the foreground, where the southern half of the block has become a parking lot:
From a few years later, here's another aerial showing Block 176 at the bottom with a big chunck of the block along Welton demolished in favor of the automobile. Also note that the church at the corner of E. 19th Avenue and Broadway (Block 002-B), visible in the photo above, has been demolished by the time this photo was taken: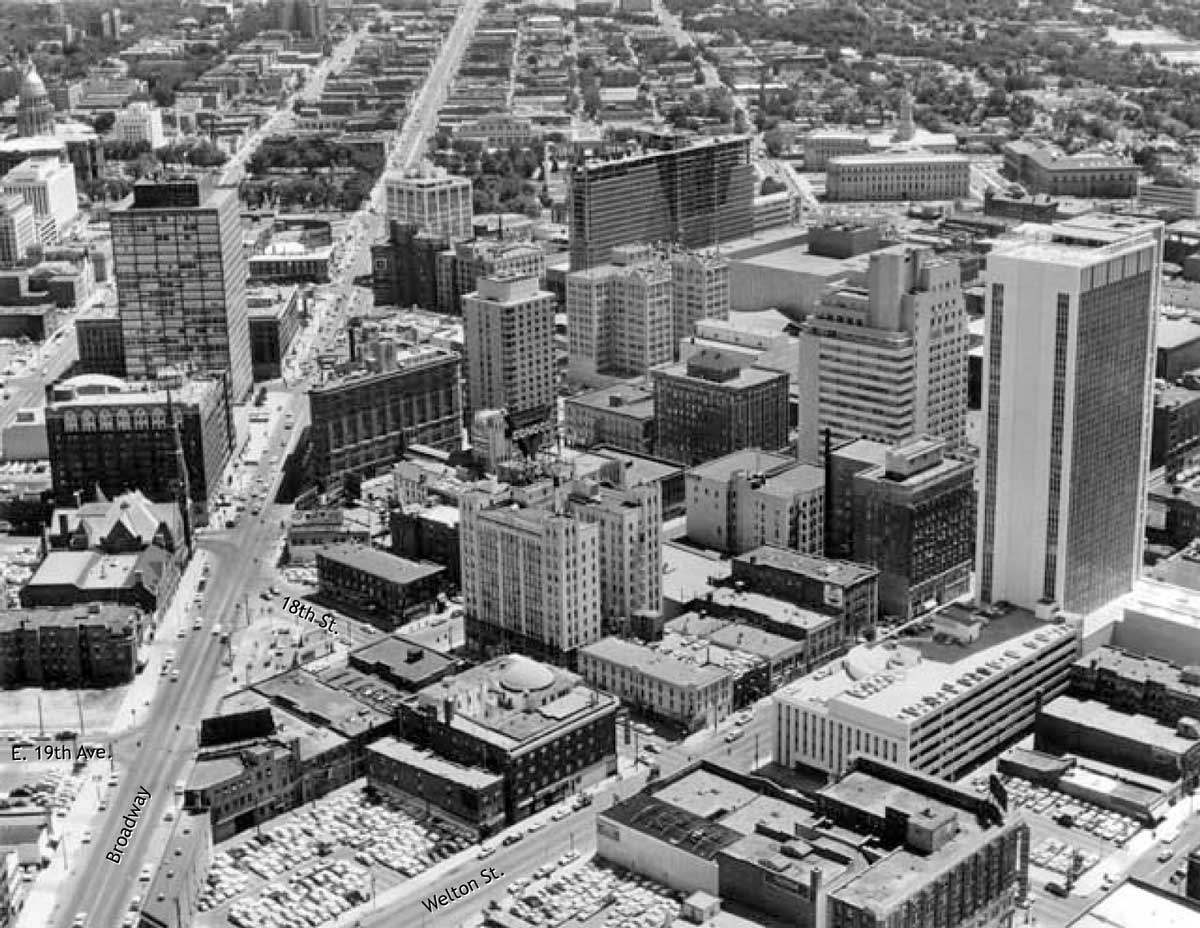 The image above also gives us a preview of our next historical look back, Block 003-B. And, if you haven't already, please vote for Downtown Denver's Worst Parking Lot!